Our Variety of
Comprehensive Roofing Services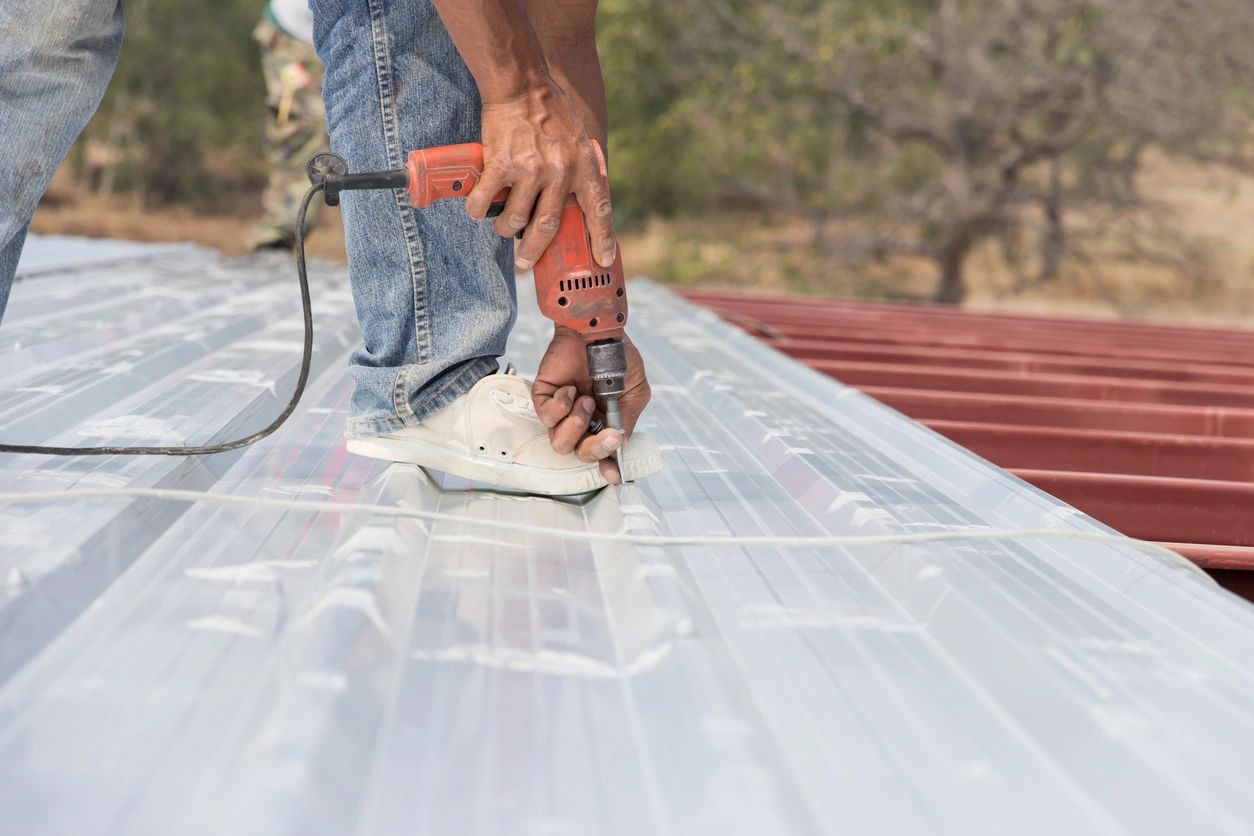 We work with Homeowners that have roof damage from hurricane Irma.
We work with Property Owners, Building Owners, and Contractors in their Re-Roofing needs.
We will install roofing systems on office buildings, warehouses, and restaurants.
We will install metal roofs on Residential and Commercial properties.
What is Florida's Building Code 25% Roof Replacement Rule?
There are a lot of misconceptions related to the 25% Florida's Roof Replacement Rule. Therefore, we here at Coastal Roofing and Waterproofing want to help the homeowners understand this rule. Many Homeowners think that patching the roof will get them by. Or some homeowners have been told the insurance company will not pay for a re-roof.
The Roof Replacement Rule
All across the State of Florida, there is a unique code related to the replacement or recovering of certain sections of roofs and repairs of the existing rooftops which have been damaged because of any one of the following reasons: Trees, Fire, Severe winds, Thunderstorms, and Hail.
Before we move on, it is essential to point out that this code is specific to Florida only. The rule pertaining to the repairs, replacement, and recovering of roofs is stated in Chapter 7 (Alterations Level 1), Section 708.1.1 of the 5th Edition of the Existing Florida Building Code (2014). The section clearly mentions the rule as follows:
"Not more than 25% of the total roof area or roof section of any existing building or structure shall be repaired, replaced or recovered in any 12 month period unless the entire roofing system or roof section conforms to requirements of this code."
Understanding the Code
So basically the rule means that if your roof coverings whether it is tile (ceramic, clay, etc.), asphalt shingles (organic or fiberglass), metallic, or any other coverings and their associated underlayment (felt, synthetic or any other waterproofing material) is damaged more than 25% of the total roof section due to any environmental conditions or any other reason, then as per the code, the homeowner is supposed to replace and remove the "damaged" covering as per the building code requirements.
However, if the damaged zone is less than 25% of the total roofing section, then you are not really required to replace the section. You can patch that area.
An important question arises at this point: what happens if you keep on patching the area within a single year and it exceeds 25% of the roof area?
The answer is simple. If such a condition occurs, you will have to re-roof the whole roof.
Hurricane Irma Denied Claims and Lowballed Claims. What Is a Homeowner To Do?
Hurricanes are terrifying and destructive storms that leave a costly wake of property damage. Unfair denials, mysterious delays, and underpayments are common issues for policyholders, and many are unaware that they have rights and can fight back against insurance companies acting in bad faith.
Every Homeowner that has damaged from a major hurricane is bound to face some challenges. Some homeowners have never submitted a major insurance claim, and they are often unprepared for some of problems that crop up.
One of the primary issues that we see deals with offers that are inadequate and don't cover the true cost of the damages to a property. Receiving these kinds of "lowball" offers can be especially frustrating when someone has waited weeks or months for payment after a disaster, and some policyholders are tempted to take it and just move on. However, you should know that you may be able to negotiate with the insurance company for the full worth of your claim.
What to Do If You've Received a "Lowball" Offer for a Hurricane Insurance Claim?
If you have received a laughably low offer for your hurricane damages, you already know it's no laughing matter. The difference between a "lowball" offer and the true worth of your claim can be significant. The best thing you can do to fight an unfair settlement offer and work toward a better resolution is hire a Licensed Contractor like Coastal Roofing & Waterproofing that has the experience with storm damage.
Understand what your insurance claim is worth;
If you don't know how much your insurance coverage should cover, or if you haven't included everything that the policy will cover, then you don't know if what the insurance company offers you is off base. Make sure that you have gotten thorough assessments of all your hurricane damage, including potentially "hidden" damages that can cause issues later on. Remember, too, that your coverage may not be limited to just the costs of structural damage. You also may be able to seek reimbursement of some of the costs of relocation, temporary repairs, business interruption, and more.
Don't accept the first offer from your insurance company;
You don't have to accept the first settlement offer you receive from the insurance company. You should know that the first settlement from the insurance company is often lower than it should be. Sometimes, the offer is too low because there has been error or something was overlooked. However, some insurance companies also routinely offer less with the initial settlement in hopes of saving their own bottom lines. Before jumping to accept the first offer from the insurance company, you should carefully review the offer with your own advocate, a public adjuster.
Don't accept an offer you don't agree with.
If you receive any kind of settlement offer or check from the insurance company that you don't agree with, don't accept it. As in the above situation, you should instead carefully review the offer with your public adjuster and try to nail down why the amount is less than you expected.
Insurance Company Tactics
Here are some tactics insurance companies may use to make getting money for damages difficult:
Denial that insurance coverage even exists;
Denial of your claim because your claim is excluded or partially excluded under your policy;
Denies any part of your claim;
Unreasonably delays the processing, adjustment, or payment of your claim;
Makes misleading or false statements to you;
Refuses to pay you under one coverage or attempts to force you to settle under other policy coverage;
Tries to lowball you with undervalued estimates, offer, or payments;
Tells you that you do not need a public adjuster to resolve the claim;
Requires a written release of any supplemental claim as a condition of settlement or payment on your claim; or
The check for payment from your insurer or the letter that accompanies it uses terms like "full" or "final" when you reasonably believe that you have a supplemental or additional claim for that loss.
If you encounter any of those problems — or any other dispute with your insurance provider — handling things on your own may be time consuming and difficult.
Irma's path of destruction
Hurricane Irma is the strongest Atlantic basin hurricane ever recorded outside the Gulf of Mexico and the Caribbean Sea. It lasted as a hurricane from August 31 until September 11. The storm, which stretched 650 miles from east to west, affected at least nine US states, turning streets into rivers, ripping down power lines, uprooting trees, and cutting off coastal communities.
On September 6, Hurricane Irma left a string of small Caribbean islands devastated. The eye of the hurricane passed over Barbuda, damaging about 95% of the buildings on the island.
The hurricane hit southwest Florida on September 10, battering the state's lower half and leaving a trail of tornadoes and storm-surge flooding as its core slowly moved inland.
The massive storm triggered evacuation orders for 5.6 million people before it made two landfalls.
On Monday, Irma was downgraded to a tropical storm as it lumbered through Georgia to parts north.
By Tuesday, Irma had left a trail of deadly devastation throughout the Southeast, flooding major cities including Jacksonville, Florida, and Charleston, South Carolina, and leaving millions without power.
http://www.cnn.com/specials/hurricane-irma